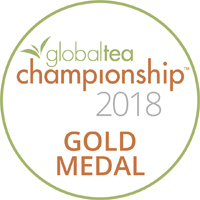 La Créme Coffee and Tea, a tea blender and wholesaler in Dallas-Fort Worth, was awarded the Gold Medal for their Blueberry White Tea in the Flavored White Iced Tea category at the Global Tea ChampionshipTM.
"The Global Tea Championship is an independent competition, judged by tea professional, to distinguish the highest quality & best tasting teas commercially available globally," states FaithAnn Bailes, a representative of World Tea Media (a division of Informa), producers of the Global Tea Championship.
Each event, judges cup hundreds of teas and score the teas based on the analysis of dry leaf; liquor color, aroma, flavor, and mouthfeel, as well as overall harmony. The ratings of each characteristic were then used to calculate an overall numerical value on a 100-point scale, and winners were determined by rank.
La Créme's website describes the winning tea as, "Blueberries are surely bursting in this cup of tea, yet the delicate white tea still comes through as crisp and clean to balance the taste for a bright finish."
"We've been privileged to enter and win numerous Global Tea Championship Awards," says La Créme Coffee and Tea Director & General Manager Samantha Hamilton, "It's always an honor to be selected as a Gold Medal winner at such a prestigious event. We strive for excellence with our tea blends and are grateful to be recognized for it. "
La Créme is a ten-time winner of a Tea Championship honor.
La Crème Coffee & Tea is a small batch, specialty coffee roaster, and fine tea purveyor. They have been practicing the fine art of blending specialty teas and roasting high-quality Arabica coffees for over three decades. The company caters to a diverse clientele including fine-dining restaurants, hotels, national and local QSR's, and coffee houses. La Créme has a custom blend program where wholesale clients can create their own one-of-a-kind, branded blend. To see how your establishment can benefit from the award-winning blends, visit our wholesale page.